Fitness studio space for Rent
Spokane Valley, WA
0 reviews
---
Vivid Dance Academy has prime studio space that is clean, easy to access and secure. We have everything you need to take your fitness business to the next level!
Location
Submit an offer to see the exact location.
Amenities
Air Conditioning
Air Conditioning Available
Audio System
Audio System Available
Bathrooms
Bathrooms Available
Free Parking
Free Parking Available
Furnished
Furniture Available
Heating
Heating Available
Security System
Security System Available
Utilities Included
Utilities Included
Wheelchair Accessibility
Wheelchair Accessibility Available
Space Details
Area: 1,800 ft²
Maximum Capacity: 30
Security Deposit - Single Use: $50
Security Deposit - Recurring Use: $50
Security Deposit - 24/7 Use: $50
Meet the Provider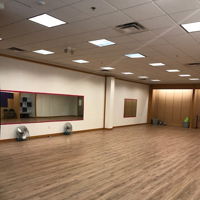 Vivid Dance Academy has a 1,800 square feet of studio space. The space has hard wood floors, extra yoga mats and yoga blocks. We have a large Bluetooth stereo and two big fans. Easy access to I-90 with a safe secured environment and plenty of parking!
Have questions? Schedule a tour to message the Space Provider
0 Reviews