Fitness Studio Space for Rent
Redondo Beach, CA
0 reviews
---
Space Description
This gorgeous studio is light and bright, with high ceilings, a skylight and a loft. Our studio caters to Pilates, Cryotherapy, TRX, Circuits and massage studio comes fully equipped with Reformers, TRX, dumbbells, bosu's etc and has an open space as well for filming classes, live stream, you tubes, insta filming etc.
---
Space Details
Area: 700 ft²
Maximum Capacity: 12
Security Deposit - Single Use: $250
Security Deposit - Recurring Use: $250
Security Deposit - 24/7 Use: $250
---
Space Provider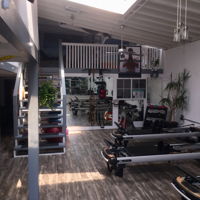 jenn santana
---
Amenities
Air Conditioning
Air Conditioning Available
Audio System
Audio System Available
Bathrooms
Bathrooms Available
Free Parking
Free Parking Available
Heating
Heating Available
Utilities Included
Utilities Included
---
0 Reviews
Location
Submit an offer to see the exact location.