Acrotopia Creative Space for Rent
---
Space Description
Our Acrotopia creative space is a cozy converted garage with big mirrors, laminate floor and material for music, recording and dancing. It is a lovely hidden away space in a private home (but with an independent entrance through the gate and an independent bathroom), located in East Pasadena, between Colorado Blvd and Madre Street, with easy access to freeway, metro Gold Line and buses. The space does not have natural light (only if the doors are left open), but it is a fantastic and quiet little space for dance or yoga lessons, for workshops of all kinds, music or video productions. Coffee, tea and expenses are included in the rental. Music can be used, but not too loud to avoid disturbing our neighbors. We also have a projector, a digital piano, a microphone with stand and a 4-channel live mixer. We are looking forward to hosting your activity!
---
Space Details
Area: 360 ft²
Maximum Capacity: 12
Security Deposit - Single Use: $20
Security Deposit - Recurring Use: $20
Security Deposit - 24/7 Use: $20
---
Space Provider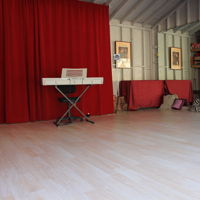 Anders Dunker
---
Amenities
Audio System
Audio System Available
Bathrooms
Bathrooms Available
Free Parking
Free Parking Available
Furnished
Furniture Available
Heating
Heating Available
Utilities Included
Utilities Included
Video Projector
Video Projector Available
Wheelchair Accessibility
Wheelchair Accessibility Available
---
0 Reviews
Location
Submit an offer to see the exact location.