Quad Innovation Space for Rent
Colorado Springs, CO
0 reviews
---
The Quad Innovation Space is a flexible and furnished space designed to host a huge variety of uses. Professional trainings and workshops, strategic sessions, fitness classes and general office work are all proven fits for the space, and we're always eager to support new ideas. This is a space designed to support turning ideas into action. We are located in the heart of downtown, in the same building as Loyal Coffee and just a block from Denver Biscuit Company, Fat Sullys, Streetcar 520 and a host of other downtown establishments. Existing furniture can comfortably support workspace for 40 (2 chairs/desk) and can be easily stored for activities that require a completely empty room. Currently available before noon on weekdays and full time on weekends. Tuesday and Friday evenings are also possible. Free street parking is available within 1 block of the facility.
Location
Submit an offer to see the exact location.
Amenities
Air Conditioning
Air Conditioning Available
Bathrooms
Bathrooms Available
Furnished
Furniture Available
Heating
Heating Available
Kitchen
Kitchen Available
Utilities Included
Utilities Included
Video Projector
Video Projector Available
Wheelchair Accessibility
Wheelchair Accessibility Available
Space Details
Area: 1,900 ft²
Maximum Capacity: 49
Security Deposit - Single Use: $500
Security Deposit - Recurring Use: $500
Security Deposit - 24/7 Use: $500
Meet the Provider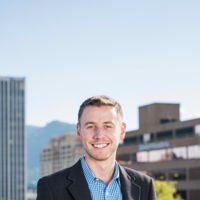 Executive Director of the Quad. Founding Director of Fuel Growth Capital. Former Fulbright, Venture for America Fellow. Gets by with a healthy dose of figuring it out as we go along!
Have questions? Schedule a tour to message the Space Provider
0 Reviews