Personal Training/Gym Rental for Rent
---
Our space is a functional fitness studio that makes the client feel comfortable by being compact and personable.

We have great functional fitness equipment, and even better energy that circulates throughout our studio.

If you are looking for a space to rent for your small group and or 1 on 1 sessions this is a place you should check out.

We are also available for group classes as well.
Location
Submit an offer to see the exact location.
Amenities
Air Conditioning
Air Conditioning Available
Audio System
Audio System Available
Bathrooms
Bathrooms Available
Free Parking
Free Parking Available
Utilities Included
Utilities Included
Space Details
Area: 1,100 ft²
Maximum Capacity: 20
Security Deposit - Single Use: $120
Security Deposit - Recurring Use: $200
Security Deposit - 24/7 Use: $120
Meet the Provider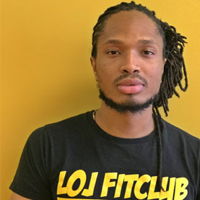 Hi My Name is Tory W. I'm the owner of LOJ FITCLUB.

I'm very personable and believe in Holistic Preventative health. I'm looking for individuals who hold their values and morals high that may need a space to rent.
Have questions? Schedule a tour to message the Space Provider
0 Reviews