BIG Speed and Strength for Rent
---
BIG Speed and Strength is renting the gym (including all equipment and facilities) to certified personal trainers. We have equipment ranging from bootcamp, cardio, free weights, powerlifting, olympic lifting, and strongman. You will be in control of your own clients and build your own business.
Location
Submit an offer to see the exact location.
Amenities
Audio System
Audio System Available
Bathrooms
Bathrooms Available
Free Parking
Free Parking Available
Security System
Security System Available
Utilities Included
Utilities Included
Video Projector
Video Projector Available
Wheelchair Accessibility
Wheelchair Accessibility Available
Space Details
Area: 5,000 ft²
Maximum Capacity: 75
Meet the Provider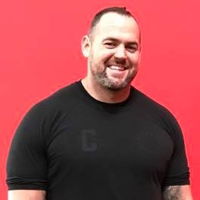 Hi, I'm Jacob Finerty, head coach and owner of BIG. I have competed on multiple levels my entire life. In high school I was in baseball, basketball, and football. I currently compete in Strongman and recently won my title as a professional strongman. I am a member of Team USA MAS Wrestling as a heavyweight and have competed in multiple countries such as Russia, Kyrgyzstan and more. I have also been an assistant coach for two different schools assisting with the strength and conditioning programs.
Have questions? Schedule a tour to message the Space Provider
0 Reviews