Huge Open Space Fitness Studio Strength Training and HIIT for Rent
---
Open space fitness studio with street frontage. Rubber flooring throughout, free weights, HIIT equipment, Turf, sleds, tires, air bike, battle ropes, kettlebells, jump ropes, med balls, slam balls, yoga balls, yoga mats, rower, treadmill, obstacle course rig, multi-station cable machine for strength training, two restrooms, audio system with microphone, benches, squat rack, boxing bag, boxing gloves, and much more.
Location
Submit an offer to see the exact location.
Amenities
Air Conditioning
Air Conditioning Available
Audio System
Audio System Available
Bathrooms
Bathrooms Available
Free Parking
Free Parking Available
Heating
Heating Available
Meeting Room(s)
Meeting Room(s) Available
Security System
Security System Available
Utilities Included
Utilities Included
Wheelchair Accessibility
Wheelchair Accessibility Available
Space Details
Area: 2,400 ft²
Maximum Capacity: 40
Security Deposit (Single Rentals): $100
Security Deposit (Recurring Rentals): $100
Security Deposit (24/7 Rentals): $100
Meet the Provider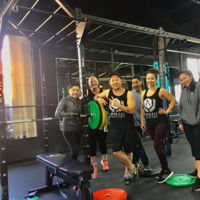 Full size open space gym with rig, racks, benches, turf, cardio equipment, dumbbells, kettlebells, slam balls, battle ropes, climbing rope, cargo net, boxing bag, sleds, boxing gloves, monkey bars and more.

Location: 1750 Huntington Dr. Ste. A Duarte, CA 91010
Reviews
There are currently no reviews for this provider.