Fellowship Hall Rental for Rent
---
Location
Submit an offer to see the exact location.
Amenities
Air Conditioning
Air Conditioning Available
Audio System
Audio System Available
Bathrooms
Bathrooms Available
Free Parking
Free Parking Available
Heating
Heating Available
Kitchen
Kitchen Available
Meeting Room(s)
Meeting Room(s) Available
Security System
Security System Available
Utilities Included
Utilities Included
Video Projector
Video Projector Available
Space Details
Area: 2,450 ft²
Maximum Capacity: 200
Security Deposit (Single Rentals): $150
Security Deposit (Recurring Rentals): $200
Meet the Provider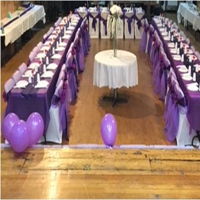 We have church space for rent.
Reviews
There are currently no reviews for this provider.