Before renting a massage room
Let's talk about the benefits that lead massage therapists down the path of self-employment. Many massage therapists crave the freedom of creating their own work schedule, as well as the unique freedom of having their own space. But what actually goes into starting a practice? Well, it's a lot—we won't lie to you. The idea may be daunting at first, but the freedom is well worth the work.
Having the flexibility and freedom to start your own practice is amazing. That's why we've compiled this list of tips you should know and the steps to take in order to make this happen!
Let's talk about permitting
First things first: permitting. I know—we don't love this word either. The great thing about starting your first massage therapy practice is that it isn't wildly different from starting any other business. You'll just need to do these things:
Obtain a massage therapist's license. You should have this upon completion of school, and remember, if you move states, you'll need to get your license there too.

Here's a helpful page

if you still need to complete this step.

Register your business for taxes (

a nifty guide for this too

).

Open a business bank account.

Acquire insurance.


Obtain a seller's permit (only if you want to sell absolutely anything out of your business).

File a "Doing Business As" (DBA or operating name), which is different from your legal name.
It's a lot, we know, but the rules are in place to protect your business! If you have any questions, check to see if your city or state has a site, like this one from San Francisco's Department of Public Health.
Costs to consider before opening your massage business
Starting a business can be expensive, especially for someone just getting out of massage school. Making a responsible and realistic business plan can save you time, money, and heaps of stress!
The bulk of your new business investment will go towards your license, permits and insurance, and some of these will have to be purchased anywhere from every 1-3 years. Less frequent investments include the equipment used during the massage, which includes but is not limited to the massage table, linens, music, oils, aromatherapy and cleaning supplies. It's completely up to you, the massage therapist, how much you are comfortable purchasing initially. Sites like Massage Warehouse can help you get an idea of how much equipment costs.
Here's another cost for you to consider: your space. If you're just getting out of school or leaving a massage chain, and you want to find your own space, you've probably started doing some research into where you can actually practice. We hope you haven't become discouraged since trying to find commercial space for a small, new business can be incredibly difficult. Try checking out SpaceTogether; they'll help you find a massage room for rent that fits your needs, is within your budget, and does not hold you to the conventional commercial lease terms. Bonus: you can rent spaces from minutes to months.
While this seems expensive, it is a less expensive endeavor compared to other businesses. You won't necessarily need to seek out investors for this type of business; it's totally possible by bootstrapping (using your own resources, as well as help from friends/family).
Branding your new business
So you've gotten all the paperwork done, bought everything you need, and even found a massage room to practice out of. Yay—you're done with the hardest part! You're one step closer to getting your business off the ground, but there's one more vital piece to starting your massage business: brand yourself. This is the key to allowing your future clients to discover you in the first place.
Here are some things for you to ask yourself as you're thinking about building your brand:
Who am I?

What kind of massages will I offer?

Is there a specific clientele I'm looking for? (Think athletes, elderly, etc.)

If so, who are they, what do they do, and what are they like? (This helps you narrow in on advertising)

Why should people choose me?
Using social media will help bring in the kind of clients you're looking for as well as advertising yourself as the knowledgeable and relaxing massage therapist that you are!
Some things to know:
You can utilize Twitter, Instagram, and Facebook. Make sure you don't overextend yourself in using too many social platforms! These are meant to help not harm your business growth.

Post consistently and use hashtags to help gain followers in your city.

Take cool photos of your space and the quality brands you use.

Create your own website. With tools like Squarespace, it's never been easier.

Once you've begun branding yourself, make business cards to hand out to clients and friends. This is a great way to get your name around the city. Maybe even have a fun pop-up event in the community to let people know that you're open for business. Word of mouth is, and possibly always will be, one of the best modes of advertising.


Other forms of revenue
A lot of businesses hire massage therapists to come into their workplace to help employees feel relaxed and fight the aches and pains associated with desk jobs. This is a great way for you to extend your client base and make extra money.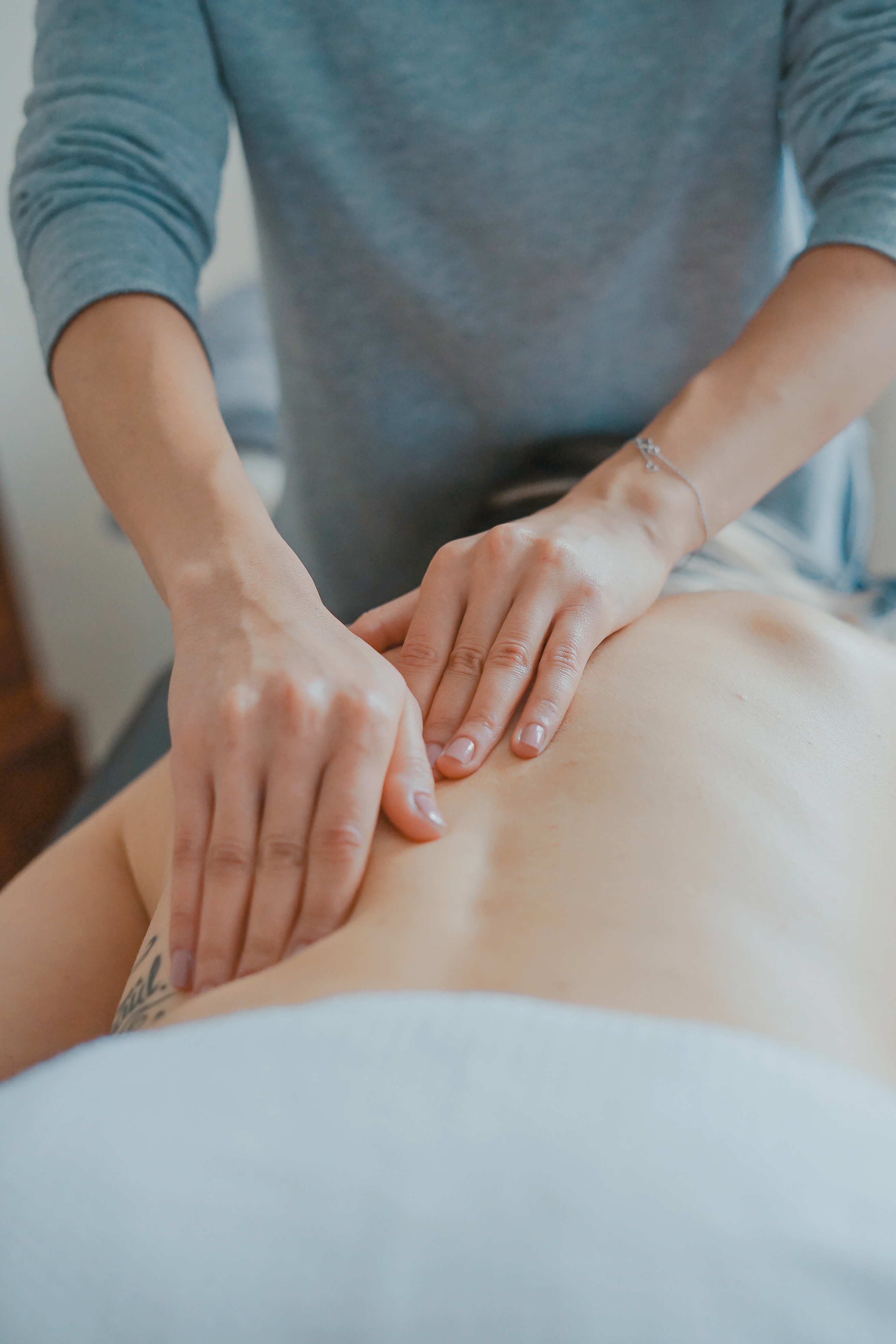 Another great way to earn more money and share your name is by collaborating with gyms. Many gyms will bring in massage therapists for events or competitions to relieve athletes' muscles.
Finding opportunities like these at least once a month will get your name out, which is key when starting your massage practice. These are also great places to hand out business cards, so people know who gave them that awesome massage and how to get ahold of you!
We know how tough it is to start a business. There are mounds of paperwork that you've probably never had to do before, obstacles you never anticipated, and financial obligations that feel more like a burden than a good investment. When you arrive at these moments, remember a few things:
It's scary because it's new. You'll learn what the paperwork is for, why you need it, and you'll be better off because of it.

Starting is expensive but stick with it, because with a sound business plan and an unwillingness to give up, you'll get the return you're hoping for.

It will all be worth it when you're sitting in your own space, creating your own schedule, feeling the accomplishment of hard work and the effects of flexibility. You can do this!

Before you go
As always, our team here at SpaceTogether exists to help you find a space that works for you, not the other way around. Find out how you can rent a massage room without the inflexibility of a commercial lease.
Share on Social Media