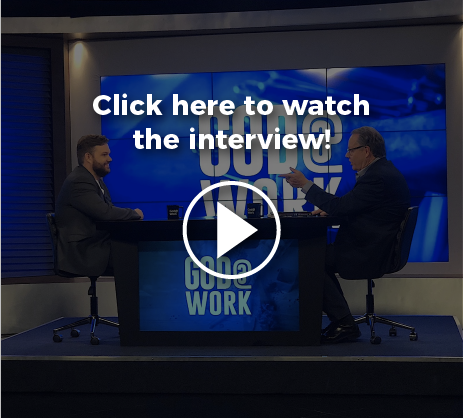 If you're unfamiliar with SpaceTogether's fantastic entrepreneurial beginnings, then tune in, because we've got an awesome story for you.
Recently, our CEO, Justin Knapp, was a guest on GodTV with Rich Marshall for God@Work. Check it out here! On the show, Justin tells his story of how he began SpaceTogether with Co-Founder Brett Farrow, but the story begins further back than the start of the company.
After two radical encounters with God and without a Christian upbringing, the thought of going to a Bible college wasn't on his radar. But soon after the idea was brought to him, he felt pulled to it, and the next thing he knew, he was there. This is where he met his future mentor, Dan Funkhouser, who recognized the pioneering mentality Justin possesses. Recognizing the potential to be a church planter, Dan pushed Justin to flourish within ministry until he was able to start his own church within Dan's building, Pulse.
Pulse's beginning is humble though. Justin recalled the beginning services consisting of the worship team leading him through worship, and in turn, him leading the worship team through sermon. At this point in the interview, Rich laughs and Justin says, it was just "the worship team and me."
After building families and receiving miracles, Pulse grew. At this point in time, Dan believed he had given Justin all of the tools and knowledge he needed to thrive. Early in the morning, having breakfast, Dan told Justin it was time. This is where the entrepreneurial spirit began to really spark.
Wanting to share space, Justin got 35 pages into google before realizing this wasn't an option the way he thought it was. So, pen in hand, he signed his own lease. But after having his own building for some time, he began to wonder if this was stewardship—spending minimal time in a facility that sat empty the rest of the time.
He decided to do some more research. He thought, we share homes, cars, etc., why not commercial space? Taking photos of his facility, he posted it on Craigslist. The result was a bit of a mess, but after three months, 65% of his overhead was covered. Then he realized he was onto something.
Dance studios, commercial kitchens, MMA studios, gyms—how many of these facilities are there enough to justify how much they actually pay? He began making calls and found that 80% of people already shared space in some way or were too afraid to use Craigslist. He decided it was time to build something; time to bridge that gap between space usage and overhead costs.
Thus, the beginning of SpaceTogether.
Justin's journey to and through Bible school, mentorship, and planting, helped pioneer an idea that has bloomed into a business that is helping churches nationwide.
The best part? It's simple. Pay for church space when you need it, share when you don't. SpaceTogether helps you find the right people quickly and easily. Check out this link to get started!
Share on Social Media