Hello there SpaceTogether fam! We hope the start of this year has been incredible and you're reaching your goals in Q2. At SpaceTogether, we've had a lot to do in this quarter.
Initially, we built SpaceTogether focused on helping people connect and share space. We offered payment processing as the main value of the product but after many conversations with users like yourself, we've realized that you're more interested in finding the right people and places; each of the updates detailed below is centered around just that. You can expect new additions to postings, verification for renters, space applications, and opening up of our space sharing logistics tools.
Alright, let's get down to the nitty-gritty: here are some of the big things that were launched today (May 10, 2019).
Just a few changes to Postings
Space Providers who create a posting to share on the SpaceTogether Marketplace will now have to pay $25 (don't worry, if you're already a user as of May 10, you're grandfathered in). This covers both a service fee and marketing costs of new postings. Since this payment is required, Space Providers will complete their posting and now enter payment information on the final step ----> we won't charge you until the posting is complete.
Verification and qualification are a powerful tool for space sharing
Space renters will now apply to spaces on SpaceTogether (see the section below for more details). With that, renters, similar to providers, must complete a profile. This profile includes three steps:
Personal Profile Setup -

Basic details, like photo, name, job title, and organization

Space Needs - Detailing when, where, and why a space renter needs space

Verification - Email and phone are required before an application, but to bolster acceptance odds, renters can also complete verification levels like Social Media, Identity, and payment. Space Providers are able to see how many levels of the person's information has been verified.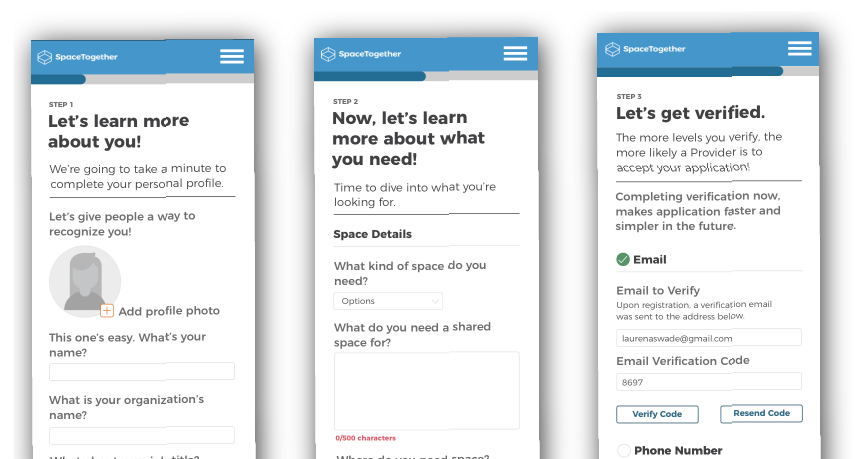 Space Applications
With Space Applications, Space Renters can send their information along to Space Providers as they find spaces they're interested in. Space Renters will send their profile, space needs (use times, frequency, budget, and rental duration), and verification levels.
From there, Space Providers can review these leads. If you're a Space Provider, you can see enough information to qualify the lead. If you want to move forward, simply click "Accept." (if you don't you can select "Reject") Each accepted lead is $35. Once this lead is paid for, Space Providers are able to connect with that lead immediately and get access to details like the organization's social media, email, phone number, and more about the potential renter. You can either use SpaceTogether's built-in logistic tools (see below) or contact them via email or phone.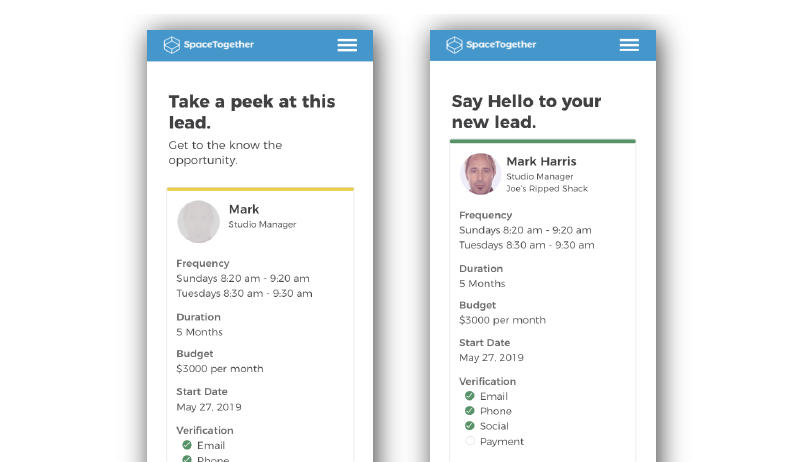 (Left: a view of a lead application, Right: a view of an accepted lead).
Space Sharing Logistic Tools
Once a provider accepts an application, the renter and provider can access space sharing logistics tools like messaging, tour scheduling, document sharing, and booking and payments.
Messaging
This one's easy! Send messages to each other and store all communication in one place.
Tour Scheduling
Back and forth is tough, and that's where the tour scheduling tool comes in handy. Renters and providers can send tour times to settle on a day and time that works for everyone. Once the tour is accepted, we'll send a calendar invite with all of the details.
Document Upload
Space sharing often requires some documents to be reviewed, signed, and stored. With our own tool, you can easily manage the documents.
Booking & Payments
Yes! You've connected and agreed upon the space use details. Now, it's time to think about payments and booking logistics. With the SpaceTogether payment tool, no one has to be the bad guy - automatically, renters pay and providers are paid on the same day, every month of a rental. Using Payments with SpaceTogether is free for Space Providers and Space Renters are charged a 5% service fee.
These tools are designed to make it easy to go from verified, qualified applicants to a deal. Space Sharing just got easier, my friends.
Never forget, we're here to help.
Growing your organization with space sharing is possible. Whether you need flexible space or want to share existing space - SpaceTogether exists to simplify the space sharing process from beginning to end. Our team is here to support you throughout. You can find us sitting in the corner of the screen (little blue dot). At any time, you can ask us a question and we'll get back to you as soon as we can.
Here are links to additional help docs so you can get started:
Again, we're so excited about these changes. As we're building and growing, we want to leave an open door for feedback from you. At any time, you can submit feedback at this link! We check it daily.
❤️SpaceTogether