Are you ready to create the best renter profile out there? This is one of the most important steps as a Space Renter. Your profile is used, in part, as your application to a space. Space Providers make decisions (like accepting your application) based on the information you provide.
Here are the renter profile steps we're about to run through:
Step 1: Let's Learn More About You
This part is simple, you want to verify that your name is correct, include your organization's name and your job title. The more you share about yourself in the bio - the better. This is a great way for Space Providers to get to know you, so make sure you're clear! Also, including a good photo of yourself is important.
Pro-Tip: Renters with a photo of themselves (vs. a building, logo, or anything else) are more likely to be accepted by Space Providers.
Step 2: Now, Let's Learn More About What You Need
Here's the deal, this step will help us narrow down the spaces that will work for you. As you're working through this, ensure you're clear about how you're going to use the space, where you want it to be, and how often you need the space (frequency).
Speaking of frequency…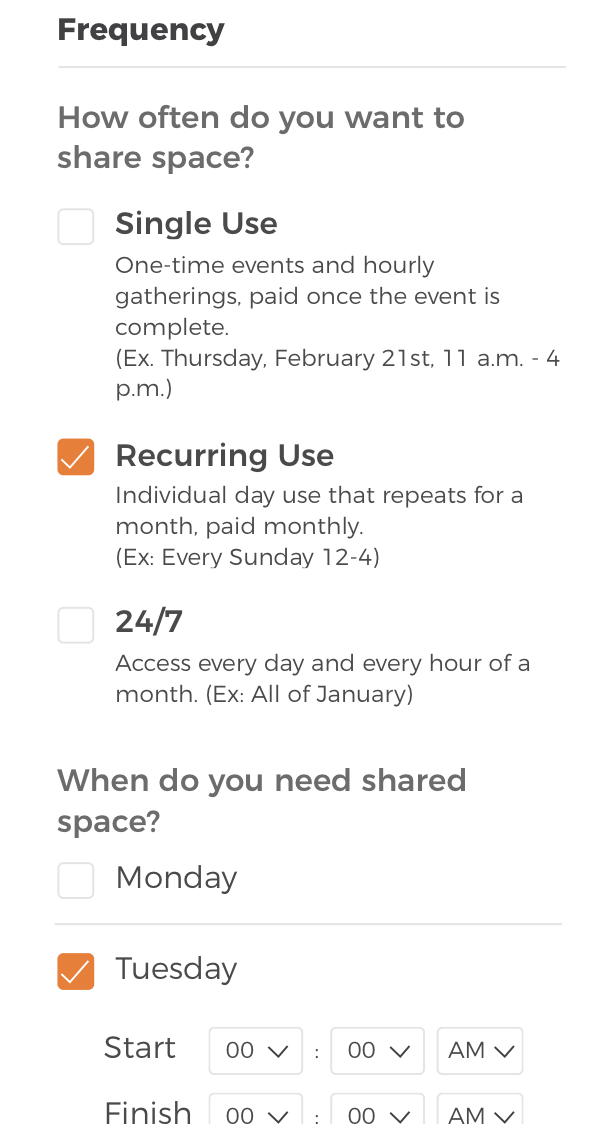 There are three different frequencies, here's the low down:
Single Use:

This is meant for organizations looking to rent a space for a couple of days, one time. For example, if you're looking for a space for a conference or event, this is what you want.
Recurring Use:

This is for individuals looking for individual day use that repeats for a month. For example, if you're a personal trainer or pastor and you have classes/service on Sundays at 9am and you want that same time every week, you'd choose this.
24/7 Use:

Access all day and every hour of a month is what this is for! Basically, if you're looking for 24/7 access for 1+ months, this is for you.
If you're not exactly sure when you need space, that's okay. At least choose one option. You can change this when you're applying for spaces in the future.
Pro-Tip: If we don't have space in your area, we'll let you know after this step. We take the information you provide and check to see if we have available space. If we don't, no worries, we hate spam as much as you do.
Step 3: Let's get verified.
If you make it to this step, it means we have space in your area. This can be an intimidating part, I get it. But security and safety is important to Space Providers and our team. After all, you're sharing space with another business.
Here's a list of all of the potential verification levels you can complete:
Pro-Tip: The more verification levels you complete, the more likely your future applications are to be accepted. Verification is one of the top values of the Space Providers on SpaceTogether.
That's it!
Once you complete each step, your profile is complete. As you find spaces that you're interested in, you can apply. The applications are an editable version of your profile, so you can edit sections later on. Click here to learn more about applying for spaces.
Share on Social Media